We are happy to schedule an appointment with our designer, who can walk you thru the process of measuring and designing your new cabinets. The designer will produce a set of plans and 3d renders of your new room. If needed the designer can come and measure your room and make sure your new room will be wonderful!

If you desire here is a free online website that allows you to design your room for free. We have no connection with this 3rd party site and can only provide minimal guidance. You could then email your design to us for review and quote.
The design process goes like this:

1. A quick interview with our designer to get your needs and preferences.


2. Obtain the dimensions of the project. You can do this easily following our guide here:
Measure each wall length.
Now, measure the distance to obstacles such as windows or doors. Take care to account for any trim moldings around these openings that may not yet be installed.
Measure your centers to plumbing outlets or electrical outlets that may need to be accounted for in the final plan
If measuring for an island or peninsula, be sure to take in to account isle distances. The National Kitchen and Bath Association recommends 42″ for isles, and definitely try not to design with isles smaller than 36″.
Measure your ceiling height. Do not assume that it is exactly 8 or 9 feet high.
Once you are comfortable with your measurements, begin plotting your dimensions on your layout paper. It is helpful to sketch your kitchen using an appropriate scale (for example, every 4 blocks on the paper equals 1 foot.
The image below shows a correctly plotted kitchen top view diagram. You can either sketch in your exact cabinets, noting them on the drawing, or you can send us the top down view/measurements and we will design and draw your kitchen for you using our computer aided design software.
---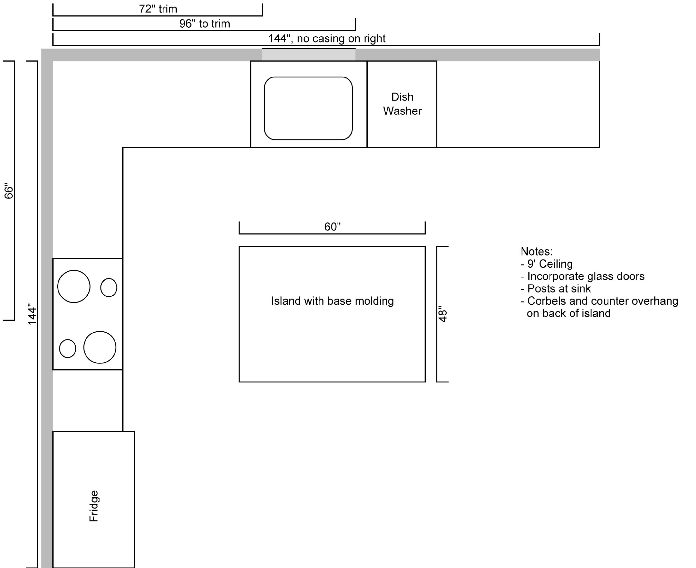 or a designer can come out and measure for you. You will need to be within our service area for free home assessment. Otherwise there is a travel fee.

3. Then we produce will produce a set of plans and 3d renders of your new room. You will then discuss and make any changes.

4. Finally a firm detailed bid is submitted to you with your drawings.